What is a board portal?
Various organizations use board portal software to manage the intense workflow of their leading boards. A virtual boardroom is a software that allows users to upload documents to the cloud server, store, edit, share and review them there completely securely. Also, the board app improves the teamwork. Every director can not only work with important documents but also communicate with other members of the board.
There are various features implemented in this software. For example, most providers of meeting management software allow their customers to create votings within the virtual boardroom. Using this feature, directors can make decisions on details and solve some minor issues without holding an offline meeting. Also, users can leave notes and communicate with other members using this software. These features allow creating a steady workflow and communication between directors. Thus, everyone will be aware of what is going on and what actions do other members of the leading board perform.
Such applications also allow companies to hold paperless board meetings. Since all documents are uploaded to the virtual repository in advance and are every member of the board can access them, participants are able to study the information before the meeting. Using their devices, directors can go through documents during the offline event. Thus, there is no need to print files and manage them.
With the corporate meeting software, directors can set the convenient date and time for the event to improve the attendance. And after the meeting, all information about it is stored in the virtual repository. It means that every member of the board can refresh their memory when needed going through those records. Also, this data allows keeping a better track of the work of the board. During and after the meeting directors can create tasks for themselves, other members or executives.
Corporate meeting software and its security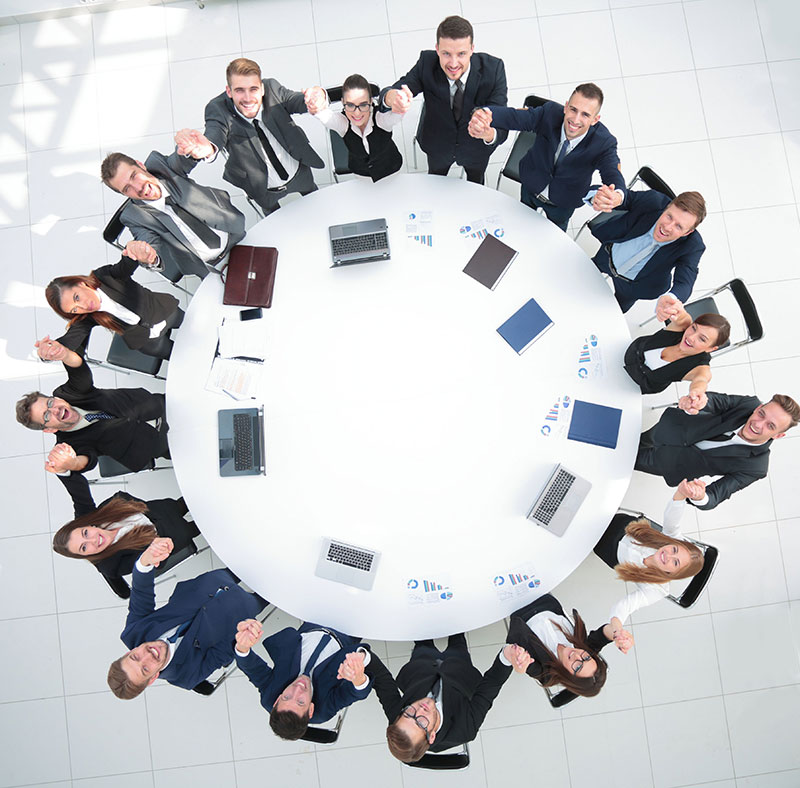 One of the best benefits the corporate meeting software provides its users with is a perfect security of the data. Once documents are uploaded to servers of the boardroom provider, they are highly protected. First of all, the provider performs a lot of actions to eliminate any possibility of the data theft or corruption. All servers are encrypted, and the level of protection is usually checked by third-party professionals. On top of that, corporate board software usually has a two-factor authentication. This means that the user will need to enter the code that was sent to his phone in an SMS to log into the virtual boardroom. Thus, there is no chance for malefactors to enter the repository even if they know the login and the password of the registered user.
Therefore, the corporate meeting software is not only useful but also a secure solution for the management of the board. Directors can upload to cloud servers even the most sensitive data without any worry. Administrators of the virtual boardroom can not only invite other members of the board but also manage the level of an access they have. The owner of the boardroom can decide if the user can see, share, print and edit documents. Also, administrators can enter the board portal as if they are a user with a certain level of an access and see if everything is set up correctly. An administrator can change the level of access others have at any moment.
Also, administrators can see every action users perform within the virtual boardroom. It allows to not only control them ensuring all documents are safe, but also to track their progress. It helps to see where the work of the board should be improved to enhance the performance of the company in general.
Corporate meeting software advantages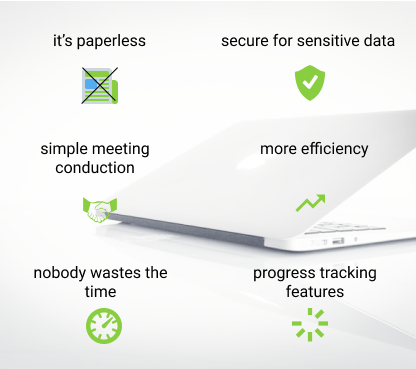 Board management software pros are evident since the usage's beginning. Let's take a closer look at the most remarkable.
Firstly, board software is paperless. Seriously, who needs tons of printed documents on every meeting just to hear another report or remember what was discussed in the previous meeting. There is no logic here, and it's time to use software!
Corporate meeting software should be secure for sensitive data. And it is secure! Multi-factor authentications, permission management, and different access levels leave no space for thoughts about any safety problems.
Conducting a meeting was never so simple. Just choose who should be invited. Board portal is synchronized with the calendar, so it's easy to find a convenient time.
As everyone has all the documents before the meeting started, there is no need to looking for relevant information in printed materials. Nobody wastes time now. Once board members have a solution, it can be easily transformed into a task with an assigned specialist to work on it. Don't forget about progress tracking features that increase transparency and efficiency.
.
Easy and comprehensive paperless meetings tools
Every company has its own challenges when it comes to the management of the leading board. But some companies need to deal with really complex processes. For example, if the corporation consists of several companies and has, thereafter, several boards and a huge number of directors. Or members of the board are located in different countries around the world. Using a meeting management tool they can not only review the needed documents without any hustle and not wasting the time of others. Directors also can hold efficient online meetings with the help of such software. So there will be no need to spend time and money on traveling and attending an offline event.
Businesses usually have monthly and yearly cycles of meetings. Monthly ones are relatively simple – memories about the past event are still fresh and participants are most likely updated on things. Still, records of the last meeting can be useful. Yearly meetings are more complex. They involve more information, a lot of decisions should be made during the event. Here digital directory boards are vital. Using this software, directors can update each other on processes, keep a track of activities performed in the company and store the information about past meetings to review it again when necessary.
Nonprofit organizations usually have to involve quite a lot of third-party individuals in their meetings. Imagine, how hard it is to introduce every new participant to the important information and explain how do things go. But it has to be done, otherwise, new participants will struggle to take a grasp of the discussion. Using board of directors portal software nonprofit organizations can provide third-parties with all needed information in advance so they can study it and get ready for the meeting.